It's a rambling kind of day. Mostly because I have lots of little thoughts instead of one big one. And because it's hot and my brain always starts to mush when it gets warm. Speaking of hot...
Today after the littles and I went for a walk/jog we met TG over at our gym's pool. Riley got to splash and play while Cam and I chilled out in the shade. Everybody around us kept asking how old he was and then would exclaim when I told them 6 weeks. What? Am I the only mother of two that takes their 6 week old out of the house?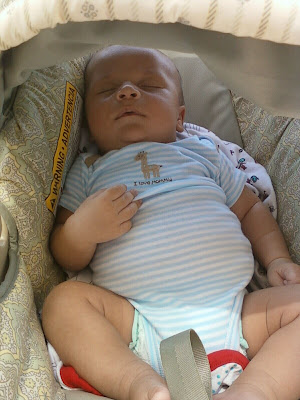 And is it just me or does he just look double in size already? Speaking of double size...
Here's my two peas in a pod before their naps today. Riley gets the biggest kick out of laying in her crib with Camden. She tries to offer him a pacifier (I'm holding out...for now) and shares her blanket with him. Hopefully she won't kick up too much of a fuss when her beloved crib becomes Cam's new digs in a few weeks. The plan is to move her to a big girl bed when we move to our new home.
Speaking of our new home...it's officially finished! We did the walkthrough yesterday and there are a few paint touch ups and other things to be done, but for the most part it was complete. TG and I just kept walking around looking at each other with our mouths hanging open in disbelief. This has been such a long journey for us and we are so thankful for how it has all turned out. We are scheduled to close next Friday and we're keeping all our fingers and toes crossed that we'll get to closing on time. Riley has been on a countdown and loves telling "all her frends" that "Ridey house awlmost donnnne. _ more weeks! Mommy paint Ridey room pink. Baby brudder's room bluuue."
Speaking of friends...to make the time pass quickly we've been spending lots of time with them lately visiting the fountains, malls, parks, farms and wineries in our area. We went to a playdate at our besties a week ago and Riley got to try out the huge giraffe that they have. The thing is super tall, and solid enough for even 36 lb Riley to ride on. It is not however strong enough to stay standing if she tries to climb it herself, which she learned the hard way.
And speaking of super tall...Father's Day is next weekend and I still don't have anything for Tall Guy. Thoughts, clever ideas, HELP!?! What are you all doing for your husbands and fathers?