SEEN
:
A holiday dinner of Christmas tree pb&j complete with Target baby puff stars and yogurt raisin snow mounds.
Miss Potato Face.
Riley and I snuggling before bed time.
Being forced to wear the candy cane headband from the Target $1 section. Can you tell she was still pretty sick in this photo?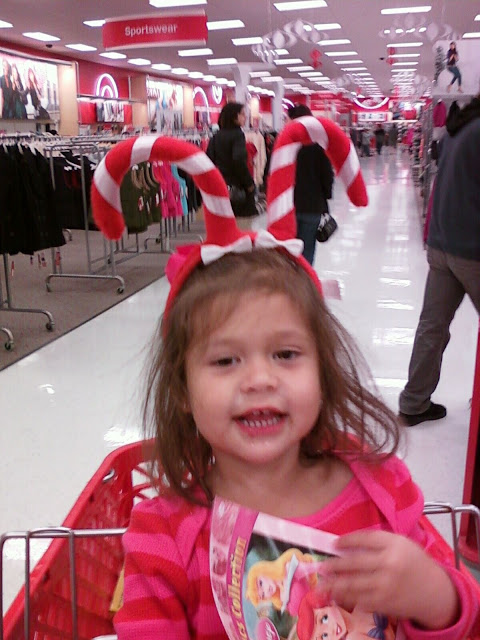 My sweetie in a Tinkerbell dress and bow holding a "bee-u-tee-ful wose".
A picture of Camden and me that Riley took with my phone!
HEARD:
Riley coming into the kitchen where I'm feeding Camden.
Riley:
Mom...I need to tell you sumpin.
Me:
What's up sweet pea?

Riley:
I knows you ta-wold me to be careful wit dis (
it's a 20 cent wreath pick
)...but I breaks it. (
the paper price tag has come off
)

Riley:
I so sorry Mom.
Riley
: Mommy? You gives me one liddle bear hugs? Wike dis? (
quietly
) grrrrrrr.
Watching The Wizard of Oz with TG.
TG:
See, Dorothy lives in Kansas.
Riley
: Kan-sw-ass?!?
TG
: Yup.
Riley
: Like Gammy and Gampy and Tata! That's my fabe-or-it fam-a-ly. I gonna gives dem a big hug! (
she hugs herself
)
Watching Tangled in the movie theater
.
Riley:
I don't wike dat scar-wee witch!
Me
: I know.
Riley
: She a tryin to get Ra-cun-zel and dat Fa-winn Rwider!
On a side note, Tangled was such a cute movie. It's definitely one of my favorites and if you have kids (or even if you don't!) you should go see it! We saw regular, but I'd recommend 3-d because there was a part in the movie that would have just been amazing in 3-d!